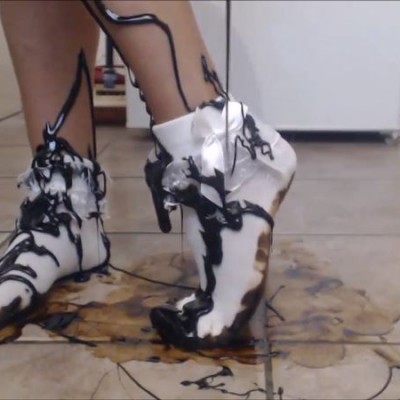 See me indulge myself in the wet & messy fetish. Spandex, Gloves, Hosiery, Swimwear, BareFeet, Leotards & of course my naked body - are just some of what I love to get soaked & yukked up in. I do welcome suggestions & requests. Enjoy!
Site-wide buy 2 get 1 free.
$4.99

This is a carry on clip from the clip 'Barefeet Treacle Treatment'. I continue to pour the rest of the thick treacle over my body. Wearing a lovely red and black bra and matching thongs, I turn them a...
$3.99

See me cover myself with cans of custard whilst wearing my hot red pvc skirt and top. The custard is sooooo cold! But it feels great as I slop it all over my head, letting it drip over my outfit and...
$1.99

Watch me dunk my designer sandals into my trifle. These sandals are gorgeous, a spiral metal heal for you to lick the cream out from, my open toe shoes means you can lick the dessert off my piggies to...
$4.99

I made up some gunge but I got the mix wrong, it turned out soooo lumpy! But it feels lovely Rather than waste it, I get into my bathtub with just my thongs on and flip flops, first dunking my fli...
$4.99

Messying my black all-in-one Spandex outfit with a can of shaving foam. Squirting it all over the rubbing it in to lather up more, in my hair, face, breasts.
Trending Scenes
Based on ratings, hearts, clicks, sales, age, and other factors
$3.99

Wearing my gorgeous suede tasseled shoes, I put all my weight onto these poor bananas, breaking their skins so that their contents come spewing out the breaks of the skin. I mush it with the soles and...
$6.99

In the bath wearing my beautiful vintage cream Nylon babydoll. I am naked underneath and the feeling of the sodden Nylon on my skin is lush. I float around in the bath, showing you from behind, in fro...
$2.99

Blue leggings and a black capped sleeve leotard in going into the bath whilst I wear them. The feel of the wet tight Spandex on my body feels great! See my pert ass bouncing in the bath of water, my...
$4.99

Naked in the bath with just my sexy leather patent thigh length red boots. I put them on the bath and have a little play with myself. I show you from different angles how I look in them, my ass, my...
$5.99

Playing with myself as I think about the mess I am about to cover myself in! I love the Wet and Messy Fetish. Finding anything gloopy and gooey to cover my body in. Some gravy this time, to pour over...
Top Sellers
Bestselling scenes over the past week